I write a monthly column in Cincinnati's Citybeat newspaper. Below are the columns as they've appeared as well the original link back to Citybeat. This is updated Monthly, so It'd make the most sense to start at the bottom and work you're way up
Citybeat Column: The Hip-Hop (Un)Scene #20 "Life After Death"
I retired this column a couple of months ago, but I really didn't retire it on the proper note, so allow me this addendum.
It is now 4 a.m. and I just woke up from a dream.
In my dream, it was eight years ago and I was walking through Cincinnati with my old friend Jessica. Now, the thing was, I knew the year was 2003, but I also knew that I had come from 2011. So she and I were talking, and we go into my girl Tammy's clothing store, TrueBlue. (Note to Readers: TrueBlue is the Graffiti'd up spot you see sitting next to the back of Bogart's in Corryville; we all used to hang out there every afternoon.)
So anyway, Jess and I are talking and we see Mr. Dibbs. We all chop it up for a minute. He leaves. Jess and I continue talking and I tell her, "Hey, this is gonna sound crazy, but did you know Dibbs is gonna end up taking over Daniel's Pub, then move over to the Sub Gallery and start up a restaurant?"
She looks at me funny and very disbelievingly. "What are you talking about?"
"No, no, seriously. I'm from 2011. Trust me. It's gonna be crazy. Dibbs is going to fall back on DJing and move into slanging food. It's actually really awesome. Trust me, I'm from 2011. I know what's going to happen."
As we laugh about Dibbs' menu names for his hot dog specials, I'm reveling in the idea that I get to share with her what the next eight years of the future hold. Instantly I feel a knot in my stomach, as I begin to really grasp the burden of this knowledge.
Then I look at Jess. And she's still laughing. And I look around at everyone hanging out in the store. And they're all so young and naïve. We're all so stupid. We're all just kids.
And then I look over at her and I tell her, "This place won't be here much longer. "
And she stops laughing a little bit. She chuckles out a few remaining words:
"What?" The last bits of laughter seep out of her words.
"What are you talking about?"
"This place won't be here much longer. Tammy's leaving. She's moving to Indiana."
"What?"
The knot in my stomach pulls tighter as if I'm watching those eight years in between us all come raging through like a freight train.
"Oooooh shit. That's nothing! Dibbs …"
"I know I know — he buys a restaurant."
"No, no! Fuck the restaurant. Dibbs has liver disease. He's going to get really, really sick. He won't have insurance. It's going to be really shitty. You guys have to do something about it now. Tell him or something. Just do something now!"
I tell her this like she has the sole power to stop it that instant.
And she's not laughing any more. And now she looks at me with her disbelieving eyes. Not that she doesn't believe — more that she doesn't want to believe me.
And then it all comes crashing down. I begin to realize it. And I let the names spill out of my mouth for her to realize as well. I lose our innocence together:
"BJ? Unseen? Gone"
"Bobby? From Top Cats? Gone"
"Top Cats? Gone."
"Damon? SoWhat? From Columbus? Gone."
"DJ Przm from Columbus? Gone."
"Camu? Gone."
She doesn't talk anymore.
"Skandal — he's in Chemo right now. He's doing good. I'm about to go visit him and Dibbs when I get back to 2011."
Now the tears are forming on both our faces.
I can feel myself crying in my dream. That doesn't happen often. So I wake up.
I wake up and it hits me even harder.
This isn't a column about a Hip Hop scene. This isn't even a scene. This is a family. It's a set of memories that you share with people from every walk of life who you would've ever met. Some of us find our future partners and create families from these scenes. During really hard times, when one of us has no family to fall back on, it's the people in the scene who take us in and put roofs over our heads. It's the people in the scene who cook us breakfast. And we do the same in return. It's unspoken. We look out for each other.
It doesn't matter who the best producer is. It doesn't matter who got on the radio. It doesn't matter who's name is the "biggest." Trust me, you'll never remember dumb shit like that. When you look back on it all, you remember the faces. The conversations. The adventures. The connections. The stories. You remember the creativity. The excitement of not giving a shit about anything except that moment with everyone.
It's an indescribable moment of time; an indescribable group of people. We've all had our fights. But at the end of the day, we love each other. Our common interests bond us more than any petty squabble could ever tear us apart.
We lost a lot of amazing people this past decade, one of whom gave this column its title. We'll lose more. We'll gain more. Death is certain. Life is optional. This is the cycle God gives us. And really, it's the greatest gift anyone could ever ask for. These memories last forever. Long live the scene. I love you.
---
Help Mr. Dibbs with his medical bills by donating through www.paypal.com (click "send money" tohellkitchen@netzero.com.
Citybeat Column: The Hip-Hop (Un)Scene #19 "Ready to Die"
I'm not sure what I'm supposed to write about here, but I'm already overdue on turning this column in, so I'm sure I'll think of something soon enough. I haven't written one of these in a few months now. Truthfully, I haven't even thought about writing one of these. It occurred to me a couple weeks back that it's been a pretty minute since the last one, so I told Mike (the editor) that I would probably fall back for a while.
This stems from a combination of reasons. The primary one being that I have too much shit to do right now. How sexy and poetic does that sound? I'll try to sexy it up a bit: I (and the company I'm a part of) am hitting a nexus point where our level of dedication is forcibly increasing in a lot of different areas.
The level of focus and commitment that I'm going to have to throw into my career is increasing exponentially. For what we're trying to accomplish, I'm realizing how much of my music-energy I'm going to have to focus on it, which, unfortunately, means taking that energy off of some of my side ventures (read: this column).
In addition to that, I'm never really quite sure who reads this column. Sometimes I assume I'm preaching to a choir that pretty much knows all this stuff. In which case, I'm not really helping the people I'd like to help, thus defeating the purpose of this column entirely.
Finally, the more I develop the sound, ideas and career I see for myself as an artist, the less attached I become to the idea of a Hip Hop scene.
I don't know if I want to be so much a part of a "Hip Hop" scene anywhere, as much as I'd rather be a part of a scene of creative individuals who pool together their ideas, resources and talents to create art and music so unique that no one on this earth could ever duplicate.
ene can do is to continue to look outside of itself for inspiration and direction.
I can give advice on publishing and social networking all day. But why shoot skin-deep advice at an artistic body with heart problems? Three years ago, I quit my job to pursue music as a full-time career, which is also when I began this column. My initial mission statement was to give artists a guide of how to navigate the independent scene. But how do you create a guide to anarchy? I'd have to show you before I could tell you. Rather, the columns kind of turned into a guide for me as an artist and a survey of why I was really making music in the first place. Thankfully, I got to use all of you guys as a mirror to bounce these ideas off of.
When I decided to make music my full-time career, I thought I knew exactly what I was doing. I thought that whatever I still needed to learn was outside of me but within reach. But I was a little ahead of myself. I hadn't really looked inward first. Rather than worrying about which publicist to align with, I should've worked more on how to dig deeper into myself to create stronger music and a more unique sound and perspective; to build my "voice." Slowly, I began to realize that and make the necessary adjustments.
So now, three years later, I look at blogs, booking agents, publicists, buzz and radio spins as awesome stuff to know about but, ultimately, pointless if you're not in this for the right reasons. It's hard for me to take all of this seriously and dive into explaining if I don't think folks are interested in pushing the art and creativity forward, first and foremost. Fuck blogs. Fuck buzz. Fuck spins. Just please care about music.
So, I don't want to write a Hip Hop column any more. Eventually, I'll return to the CityBeat pages with a revamped version of the column. It might come seasonally; it might be a full article. Who knows? I don't like conforming songwriting structure very much, so it would seem to be that I'm not a fan of conforming column-structure either. (Really, I'm just being an artsy dick to Mike.)
Although there will be one final "farewell" Hip Hop (Un)Scene, I think I want to live out some more experiences before I come back to these pages. I need to learn more.
When it's all said and done, I really hope you guys got something out of these columns. That would feel awesome. I think sometimes writers just assume they're typing words directly into a blackened abyss where no one can hear you spell-check. I hope that hasn't been the case here.
I really, really, really want to thank Mike Breen and CityBeat for letting me use up one of their pages every month. I'm still not quite sure why they did it, but I'll assume it's the Ambien.
Consider this a season finale cliffhanger. I'll be back with some final final thoughts. Thanks for reading.
Citybeat Column: The Hip-Hop (Un)Scene #17 "The Listening"
This column is due the day I'm writing it.
Up until today, I didn't know what I wanted to write about. I've been writing these columns for a couple years now, and in the interest of not feeling like I'm writing the same thing over and over, I never just want to phone it in and write some existential bullshit piece just for the sake of writing.
Last night I dimmed the lights and listed to The Weeknd's House of Balloons and Flying Lotus's Cosmogramma back to back. I totally spaced out and just swam inside the music. It was an amazing feeling. The type of feeling that our parents say doesn't exist in "our" music.
It's occurred to me on a few occasions that it's not so much the music we listen to that sucks, it's the way we're listening to our music that sucks. I won't even get into the lowered quality of MP3s and iPod earbuds, or even the shitty laptop speakers, though all that plays a huge part in this. It's the way we're delivered music and begin to absorb it, especially folks in the music game, whether it be artists, bloggers, DJs, whatever.
A problem of mine is that I have too many ears, and sometimes I don't know when to shut the unimportant ones off for a while. One of the beautiful things about music is that there's a million ways to listen to it. You can listen to the lyrics, the arrangement, the melody, the rhythm, the hi-hat, the little reverb guitar waaaay in the background, anything. When you're in a certain mood, you'll hear things in a song or album you've never heard before. Personally, I think that's one of the marks of a great record.
But sometimes I miss out on some amazing records because I'm listening with one of my fucked-up ears. These ears usually rear their ugly lobes when I'm doing work online and run through blogs to get a sample of music. These lobes are specifically ugly in that they have a built-in 10-second filter that will instantly shut off a song before it even gets a chance to grow. This ear also awakens when going through stacks of demos and free CDs I get from strangers. It's not a pretty ear. Sometimes it's necessary to filter out bullshit, but it's not the best ear in the world.
Another ear I find myself battling is the "engineer ear," which I will dub the "Engine-ear." This is an ear I'm often guilty of using to judge music, as well. It usually appears when I'm deep into working on my music — recording, mixing, producing, etc. It tends to filter songs out in similar fashion to my "blog ear," listening first for the sonic quality before absorbing the feeling and vibe of what the song is trying to express.
This ear is great at picking apart everything the artist did; figuring out how vocals were laid, what samples were flipped, how the harmonies were arranged, etc. Again, this is a good ear to use when I'm filtering out some bullshit or taking notes to learn from and bring back to my own projects, but I have a feeling I've missed out on some really great music because I was in Engine-ear Zone.
These types of ears only last so long before they burn the brain out on the entire idea of music, simply breaking it down to a series of mathematical rhythms of sound and frequency. As a music fan, this is a horrible place to exist. It's like Neo seeing the walls of The Matrix as the binary numbers they are; cool at first, but probably annoying when you just want to go pick up eggs from the grocery and just see little green zeros in the dairy aisle. Thankfully, it's pretty easily resolvable.
It's at this point that my favorite ears start to reign in and take their proper seat on the throne of my iTunes list. These ears tell the rest of me to dim the lights, turn off the TV, close the laptop, close my eyes and press play through an entire album. These ears make the rest of my body and the rest of the world to fall in line with them for the moment. These ears know how to get my attention. And they know they deserve my attention because these are the Ears that stimulate ideas and imagination in me. They tend to go grab records that they know the rest of me should listen to and absorb. I owe these ears my life.
So I guess I'm not just writing this column specifically for the musical artist. This is kind of built for everyone who takes part in this industry, whether at a local level or a national level. Sometimes you can get so caught up in the job of what you do inside music that you can forget how to enjoy the music.
So stop reading and go listen to this Weeknd album. Enjoy the music.

Citybeat Column: The Hip-Hop (Un)Scene #16 "Let The Rhythm Hit 'Em"
I can two-step. That's it. Also, I killed some line dances at my dude's wedding last year. But that was just to impress a girl, so even that doesn't really count. I know I have more rhythm than most white people, but just enough to dance to "Purple Rain" at family reunions. But, see, rhythm is important. Every song has rhythm. Even Classical music has rhythm.
The entire earth works on a rhythm. I'm assuming the Universe does as well. It's really just math when you think about it. Musicians live inside of melody and rhythm. The right combination of both can make a hit song that the world connects to. But I'm not here to talk about how to make a beat or how to find a rhythm in your music — you (should) know that already.
I want to talk more about how to find a rhythm in your life and music cycle.
As I've mentioned ad nauseum in this column, we're moving further and further into the age of the independent musician. Artists who build their machine from the ground up, from producing and recording to touring and promotions, are more and more in control of their own destiny. Sustaining a full-time career off this can be very difficult, but it isn't achievable without rhythm — personal rhythm and career rhythm. And you can't have one without the other.
I've been doing music full time for about two and a half years now (by the grace of God), and one of the first things I've learned in adapting to the change in lifestyle is the necessity of a daily and weekly rhythm. When I first quit my job, I was scared I'd run out of music shit to work on after the first few weeks. Like, after a month in, I'll have done everything on my "To-Do List" and maybe just get another "normal" job.
Quite the contrary. The "To-Do List" still exists and is about 40 pages deep now. In my initial excitement to go into this full time, I'd wake up at 7 a.m. and go to sleep at 3 a.m. for days at a time. Things like eating, exercise, bathing and general hygiene were annoyances. They were distractions that got in the way of what I wanted to do all day long (though I can't front like they still don't when I'm in a zone).
But that can only last so long. I totally threw off my rhythm and balance and I had to make up for it, so I wouldn't have a mini-burnout (though I still do about two times a year at least). What I came to realize was that I had to treat this just like a "job" — lunch breaks, days off, bathing and other "9-5" stuff. Finding the rhythm of a daily routine was so much more important than I initially realized and it has really helped bring clarity to the importance of finding a steady career rhythm.
"Career rhythm" is difficult to explain, as different artists have different career choices and paths to take. But since this is a column directed at "local scenes," the choices narrow a little bit. The way I see it, artists have two jobs: 1) make music and 2) get the music out to people. But in those two steps are hundreds of little steps.
Without diving too deep into details, this is what I see as a basic rhythm to somewhat adhere to: live and experience shit; write about it; record what you wrote about; find the right music to fit what you wrote; find the right engineers to mix and master it; get your artwork, image and online presence all set up; begin hitting open mics or rocking your own shows; live and experience all that shit; write about it and expand your sound; push your boundaries. Rinse and repeat.
That's easier written than done, but those are good, basic habits to work into your routine and it allows you to slowly expand outward more and more as you continue to repeat the process. When you get to the level where you're ready to tour more heavily, you'll begin to realize how important your daily rhythm comes into play. Touring tests this more than any other area of an artist's career. It takes you out of your environment and comfort range, so sticking to your daily rhythm is the main thing that keeps you from going completely batshit crazy on the road or upon return. (Trust me, I've been there.)
In closing, don't get too attached to any particular rhythm. That's the biggest trick. You can only two-step for so long before you have to change it up. You can only use a drum pattern so many times before it feels stale and weighs down your evolution. Use some of these tips as a basic template, but never be afraid to think outside of your box and experiment with new ideas.
One thing no one in music will ever get tired of is a new idea.
Citybeat Column: The Hip-Hop (Un)Scene #15 "On To The Next One"

Bleak-ass February is over. This, as far as I'm concerned, means winter is over. Oh, it might still snow in the next two to three weeks, but it's such a punk-ass snow. Winter in March is like an abusive alcoholic father you dealt with as a child and then grew up to see as nothing more than a sad old man swiping at the air and falling over. Snow all you want, old man — your time is near.
With that said, it's getting to be springtime. For an artist, this means (hopefully) it's time for touring and to release projects you've been working on all winter. As a host of Cincinnati artists get set to release their projects this spring, I wanted to give some key advice that I've learned over the past few years.
One of the biggest problems that I see keeping local artists from building a strong foundation of fans, a memorable catalog of material and a potential full-time career in music is the lack of push on their record, post-release. I'm writing about this because I've made this mistake before and had to learn from it. Some of my Cincy friends have told me just how quickly some of the city's really talented artists give up on a song if it doesn't instantly blow the second they drop it.
Newsflash — songs don't just blow the second you drop them. None of them. You might think they do, but that's probably because you heard the song a year after it's been worked in the artist's local scene, DJ circuits and blogs.
Since I've been guilty of quickly moving on after a non-instantly gratifying release, I'm going to assume I know at least a couple of the reasons why it happens so often. Artists are artists. They love to create. When they're done creating, they want to create more. When they're finished with a song, the final "stroke of the brush" for the artist is to release it to the public. As soon as they do that, mission accomplished. On to the next one.
In an artist's mind, we don't hear a complete song. We hear the kicks, the snares, the vocals, the mixes, the mastering, the little sound at the three-minute mark we realize we don't like anymore. We hear where we can grow into the next song, which means that "next" song, that'll be the one. Meanwhile, you might have a host of local DJs, radio personalities, promoters, bloggers and over-all fans listening to the song you're already tired of, saying to themselves, "This song could actually do something."
I've seen this problem hit Cincinnati (as well as Columbus, Dayton and every other local scene, not to mention nationally) for so many generations it's stupid. This applies to genres outside of Hip Hop, too.
So what does an artist do about it?
First off, it comes down to the team of people around you. You're going to have to have some trustworthy folks around you who are not musicians and artists. You need a business brain to work the way your artist brain works. I used to try to do both and it didn't really work. I mean, it worked, but it could've worked so much better if I had the proper outsiders working against some of my impulsive artistic decisions. You need folks who can see the potential of your music outside of yourself and help mold the song or album into something to be pushed beyond just a week after its release.
Secondly, remember that nobody, not even your friends, have heard these songs as long as you have. No one has been sitting with these songs day in and day out, checking the mixes in a million different systems. There are so many people who haven't heard your record that it'll be new to them in three years. I still get folks who just discovered records I dropped four years ago respond like they just came out last month.
You don't want to go overboard, but if you have a quality record that you feel can make some noise, tour it out for a few months and take it as many places as you can. Get all the honest feedback you can from the scene around you and keep expanding where you take it. A lot of times you'll find that the second you get absolutely sick of a song is the second it starts catching on.
In my eyes, this is how you build the beginning of a real following. Not a quick-fix following because your song got spun on the Wiz a few times and people want to see you for a summer but then forget about you in the fall. This is the type of following that builds you as an artist and a personality. It builds your story. And it builds your fan base bit by bit over a long period of time.
It's not always fun. Sometimes it's straight shitty. But this is the type of thought process that builds you a 401K plan in music. At least I hope it does.
New Citybeat Column. In Arizona having a freakin' ball by-the-way. Enjoy:
Citybeat Column #14 "Respect My Mind"
In my last column, I summarized the first dozen Hip Hop (Un)Scenes I've written for CityBeat. These first 12 columns traveled from the basic how-to's of recording, performing and building your team to the deeper subjects of questioning why you're choosing to become an artist and how to find the position that best suits you in the music arena. This column feels like the beginning of round two. I plan to keep bouncing between more advanced and straightforward how-to's, as well as deeper columns that more speak to the core of what it takes to be successful from a psychological and spiritual standpoint.
So let's get deep. I've been traveling like crazy this past month and honestly have so many thoughts and ideas I want to cram in here, but I do have a word count to stick to. So I'll have to choose one stream of consciousness and swim down it.
So let's start at one of the most basic concepts I can imagine about being a potentially amazing, well-rounded and successful artist in your own right, let alone by "industry standards." This is the idea: As an artist, you have to be able to appreciate and respect the idea of music, even in music that you can't stand.
You have to be able to separate which music is made "for you" versus which music is made for other demographics of fans and consumers. It's very easy for grown-ass men and women as artists to complain about how much Waka Flacka and Soldja Boy sucks. And they can lament about how music isn't what it used to be when they were younger. Shit, I laugh at some of the joints that come on the modern radio, like, "Is this a real song?" But guess what — music is just like it was when we were younger. It doesn't "sound" like our music. It never will. There's new technology, new equipment, new thoughts, new ideas. We love the music we grew up with because it represented a time in our lives that helped shape the men and women we would become. It was the music we listened to in elementary and high school that acted as a soundtrack to our most extreme moments. And half of that shit was gimmicky, just like today.
I'm always surprised that the same people who danced to Kid 'n Play talk about how horrible Cali Swag District is. It's the same emotions and energy recycled into a new generation, just as it was recycled to us coming up.
As an artist, you have to respect the emotion and energy that new artists represent to the kids coming up under you. The second you complain about it on record, the second you become a reactionary, bitter, underground rapper, the second you're music becomes reactionary, is the second you've given up on original ideas and creativity. Artistically, you have to wait and see what another artist does or says to have enough inspiration to write your "reaction piece," if you will. This thought process creates one of the lowest artistic and creative ceilings anyone could ever imagine.
It's much easier and more freeing to embrace and respect the creativity that lies behind someone's music rather than bash it for not appealing directly to your tastes. Now, if you're not an artist, none of this applies to you — love what you love, hate what you hate. It doesn't affect your career. But an MC's career is affected by everything he or she sees, touches, hears, feels and tastes. The quicker an artist can free their mind of the negative energy that is created with bitter and reactionary attitudes towards other artists, the quicker that artist will become successful in their own right. Guaranteed.
This idea applies way beyond music. It's the same theory that fits in an office. You can either sit with the group of folks on break who complain about everything and everybody at the work place or you can sit with the folks who are brainstorming ideas to help the company they're working for, pushing that company further. The same structure of thinking applies to an MC.
It's easy and comfortable to sit in a room with five like-minded friends complaining about how shitty Waka Flocka is, preaching to a choir that already agrees with you. It's a challenge to accept and value all artistic expression no matter how far out of your lane it is. But with any challenge comes a greater reward. The quicker you can appreciate something in everyone's music, the easier it is to get positively inspired by something in it. Suddenly, you realize how hard the drums on that beat knock, when you never noticed before. You notice a line here and there that might change the narrow view of music you never realized you had.
Music is something meant to be loved unconditionally. Its worst traits to you might be its best traits to someone else.

Citybeat Column: Hip-Hop (Un)Scene #13 "Greatest Hits"
I've officially written 12 columns for CityBeat, which technically amounts to a year (although it's now been more than a year). Hey, it's a free paper, so who's counting? What I want to do is write a quick recap of what the first year's worth of advice has amounted to. Awesome how I can just cram it into one column. If you've never read the column up to this point, I'd advise going back to the archives to expand on all these ideas.
Column No. 1 ("Looking Back and Hustling Forward"): We can't expect industry hand-outs. The industry has changed entirely in the past six years. We have to build our scene ourselves, develop our own distinctive sound(s) and build our own structure for success.
Column No. 2 ("Beats, Rhymes and Life"): The way we begin building our sounds is to create actual albums, building chemistry between the artist and producer, much how Ohio Funk groups did it in the 1970's (Ohio Players influenced Roger Troutman, etc.). Everyone made each other strive to be better. It's cool to rap over other folks beats once in a while, but the less you do it, the more of a sound you will have for yourself, and the more it will mean when you actually do rap over a beat.
Column No. 3 ("Turn My Headphones Up"): Once you've developed and practiced recording your music, it's time to record. Prepare to be as efficient and money-saving as possible. Work with the engineer as much as possible to get a better product. Learn as much about the jobs of the people who can help you become a better you. The better you can communicate with them, the better your final product will come out.
Column No. 4 ("The MC/DJ Relationship"): Once you've been developing your sound and recording your music, it's time to find a DJ or band (though a DJ is easiest to start with) and develop a good stage show. This means no rapping over your vocals.
Column No. 5 ("What About Your Friends?"): As you begin making music with your friends, you'll have to simultaneously begin developing a business format with them. The best groups were friends that broke up over business disagreements, so get the foundation down strong on paper. Separate the business relationship from the artistic relationship and friendship as early as possible.
Column No. 6 ("The Future is Unwritten"): Before you step out into the scene to build your name and brand, really question why you're doing this. The greatest and longest-lasting careers are all built off artists who feel as if they have no other choice except to make music. Someone once said, "You will be successful when no one has to pay you a dime to do it and you're still happy."
Column No. 7 ("Online Etiquette"): After developing the basis of your sound and recording, it's time to start developing your online fan base. Starting mostly with Facebook, since that's your strongest online network of friends, continue branching out. Just don't become a "MySpace Rapper."
Column No. 8 ("Smells Like Scene Spirit"): What truly creates a unique and long-lasting scene is the combination of creative minds that are open for collaboration and want to build the scene off of a creative platform, not for demographics of fan base or to clean dirty money out. Astronauts become astronauts because they want to walk on the moon, not to make quick money. No different with music.
Column No. 9 ("Ego Trippin' "): A continuation of the last column. The second you start valuing your status in a scene over what you create is the second you fall off. The second you start paying attention to status in a local scene is the second you give yourself a ceiling. No ceilings.
Column No. 10 ("I'm Burnt"): Every so often, the deeper you get into the Music Game, the greater the chance of a burn-out. I find them a lot after touring. Sometimes burn-outs are necessary. Sometimes what you think is failure is the set-up to an awesome moment of clarity. Embrace the burn-out and learn from it so you won't have to go through it again for as long as possible.
Column No. 11 ("That's My DJ"): So you've recorded songs and begun performing in the scene. You've built your own sound and are developing a stage show to match it. You've begun networking your early online fanbase and promoting your shows. You should start to notice things happening that you don't even have to set in motion at this point. By now, folks approach you for opportunities. If your music fits the lane, one thing to consider is going the route of the mixtape DJ to help spread awareness of your sound and build your buzz in the club scene.
Column No. 12 ("Be Here Now"): We wrap up the first 12 columns with another deep one. Dharma is the idea of letting your dream build itself instead of forcing it into what you think it should be. You might not be the rapper you think you're supposed to be. Which is fine. Find where you succeed the strongest. Don't let the rapper-ego get in the way of you making a living off of what you're happy doing. Don't let someone else's dream define yours.
There, one dozen columns wrapped up in a pretty package for you. See you next time when I pick up the thread.
Citybeat Column: The Hip-Hop (Un)Scene #12 "In Search Of…"
The word dharma is a term used in Eastern Philosophy, primarily in the Hindu faith. Its most literal meaning is "to act in accordance with one's duty." Over the years, I've learned to live by this ideal.
The most successful people I meet involved with music, or any industry for that matter, are the ones who let their profession choose them. Ideally, when you're young, you begin to develop a talent for something or, at the very least, show interest in an idea of what you want to be when you grow older.
Many of us have this idea of getting into music and becoming a star. It's an awesome dream. You see your favorite artists on the covers of magazines growing up and you just know that's what you want to do. I still have my old Source magazines from the '90s and I still reminisce about the feelings of wanting to be on that cover.
Almost every person in the industry had a similar dream. Few A&Rs sat awake at night as a child, dreaming of the day they could decide which producers would be able to fit the label budget given to an artist for its album. Few radio programmers dreamed of the day they could input a group of label-approved, correctly formatted, backroom-politicked songs onto an iTunes playlist and let a DJ click the play/repeat button for the next three months.
Dharma is the reason these people might not be famous stars, but are highly successful in their trade and generally enjoy doing it. Or at least the best ones enjoy what they do.
Dharma is the acceptance that there is a position for everyone to play on this Earth. We're given the tools to build our path and the path is usually put right in front of us. However, what we have planned for ourselves usually gets in the way.
Two months ago I wrote a column titled "I'm Burnt." It was my post-tour, things-aren't-going-the-way-I-want-right-now burnout piece. It was awesome to write and helped me put a lot of things into a proper context. One of the biggest lessons I had to (re)learn was that just because things don't go the way I see them in my head does not mean I failed at reaching my goal. It just means I was mistaken in what I thought my goal was. In fact, I've actually reached the goal I was originally working toward, I just didn't reach it in the way I imagined in my head.
Dharma is the reason I write this column. I didn't plan for this. It was offered to me so I accepted it; a means to an end that I hadn't accounted for. There's a reason I'm here doing this and there's a reason you're reading it. I might find out tomorrow that I'm not supposed to rap. I'm not supposed to be a musician. And I have to be open to that.
A couple months ago, my homie Zone put me up on a Pharrell interview when I told him I was going through this burnout. It was a great interview. I've always loved and studied Pharrell's insight and perspective on music and life.
He used an example of a small struggling screenwriter. The screenwriter spends years writing a screenplay, with an ambition of directing it and making a movie by himself. A company meets with him and loves his idea. They tell him they want to turn his screenplay into a movie and bring a huge director in to shoot it. The screenwriter turns down the offer. He turns it down because it did not fall in line with his exact plans. He was supposed to write and direct. These are the only terms he could be happy with. As a result, he missed an opportunity. Rather than developing new ideas and new ventures, he's stuck on the same idea, and it's clogging his pipeline for creativity.
Would you, as an artist, be prepared to have an executive offer to buy out one of your most personal songs and pass it to someone more famous? Would you be willing to take songwriting credit and get your publishing if it meant your face wouldn't be in front of the camera? More importantly, would you be willing to give up a deeply personal song of yours if it meant more exposure because another artist is singing it instead?
There's no right answer, it's up to the individual and situation they find themselves in. But it is something to think about. What is your dharma? Are you supposed to be a rapper? A producer? A promoter? Even then, what type of promoter are you supposed to be? What type of producer? Do you specialize in arrangements? Playing live? Drums?
It takes time to figure these things out and find where your direct passion and excellence lies, but it's all part of the process. It's all dharma. Once you figure that out, everything else literally falls right into place.
Citybeat Column: The Hip-Hop (Un)Scene 11 "…That's My DJ"
Last month I ended my column on artist burn-out with the advice to drink Bleach. I took my own advice and it really brightened my perspective. Thus, my burn-out is over. Writing that column put the nail in its coffin. So now, back to advice. I've chosen to go back and cover something specific this time. Nothing too deep, just simple advice.
And not even my advice. This advice comes from Cincinnati's (and now Atlanta's) own DJ Drizzle.
This column is a sequel to a column from last November in which I interviewed my homie Rare Groove, who I consider to be one of the greatest DJ's the city has ever witnessed, specifically in helping to build an artist's stage show into something more than five dudes rapping over vocal tracks, gunshots and tornado sirens.
But that's not all a DJ does. There are DJs that run in the Groove lane and DJs that run in the Drizzle lane. Both types are talented and both cross over into each other's lane at times, but at the end of the day, they have different responsibilities and offer different contributions to the game.
I wanted to follow up the Rare Groove article and present the other side of the DJ's repertoire: The Record Pool/Club DJ/Mixtape DJ/Record & Artist Breaker. As a member of the Hittmenn DJs, I've always seen Drizzle as a good representation of this and wanted to get his insight on a number of things up-and-coming artists should work on when trying to get their name popping in the city, region and beyond. (For more on DJ Drizzle, hit up www.gotdrizzle.com.)
When I asked Drizzle about how the artist/DJ relationship best works, both stage-wise and promotionally, he said that a DJ is looking for an artist who has already begun establishing a work ethic and local buzz. They want someone who's already performing at showcases and open mics. They want someone who knows how to generate interest in themselves already. By the time they come to someone like Drizzle, they might not be as seasoned, but they won't be scared to perform and network.
One of the best things an artist can do to make the DJ's job easier, according to Drizzle, is to simply listen to the DJ's feedback. They know what works. DJs are on the frontline, in a sense, every night. They control what gets played. They know what's hot and they know what's not. They know when to play which record at which time of the night. They know which neighborhoods, regions and coasts mesh with which records.
DJs need to get their brand out there just as much as MCs do. One should never depend on the other to handle the hustle. When collaborating on a mixtape together, an artist should make sure they're grinding just as hard, if not harder, than the DJ, Drizzle advised. Don't fall back on the DJ's name or rep to carry your mixtape. All it does is sink the mixtape and make them look bad for working with you in the first place.
A DJ can help expand an artist's fan base. A good DJ in this arena already has a huge network of connects, both online and off. According to Drizzle, anything from e-mail blasts and DJ retreats to breaking the artist's record at clubs they're currently spinning in works to increase awareness for the artist they're pushing.
When asked for some basic rules/guidelines/advise for an artist to follow when trying to get a more prominent DJ to host/present their mixtape or spin their record, Drizzle said it helps if your buzz is really strong or you have a good relationship with the DJ. Otherwise, he said, don't ask for that kind of help right away. Ask for feedback. A DJ wants to know that you're humble and want to learn what it takes to make a song that will work in the club.
A lot of folks run up on a DJ while they're spinning in the prime-time hours of the night, asking them to spin their record because it's the "hottest shit" out or whatever. They might get played … if they pay. Which seems like an easy way out. But, as this column always stresses, there are no easy ways out. No skipping steps. Period. If a DJ accepts your money to play your song at the hottest point of the night, you can all watch the dance floor clear out from the DJ booth. Then you can watch the DJ lose that night for losing people, thus losing drink sales, thus losing the club owner's money. And the club owner, trust, does not give a flying fuck about you and your boys' new song.
So, again, don't skip steps; it all comes back around. Get the feedback, earn stripes and build the buzz from the ground up based on the quality of the record and the quality of the hustle.
Citybeat Column: The Hip-Hop (Un)Scene #10 "I'm Burnt"
"On a long enough timeline the survival rate for everyone drops to zero"
I didn't like my last two columns.
Straight up.
What started out as lessons for independent artists felt like some holier-than-thou shit. And that's not cool. At all.
So I'm sidestepping for a minute to write what will be the natural third arc in this column trilogy.
The burn-out.
I didn't write a column last month because of space issues with CityBeat. But really, I wouldn't have been able to write 850 words worth reading past the first 20, so it was a blessing in disguise. This month I want to write about burning out. This column by no means fits into my "Grand Scheme" idea of columns that I started with, but I won't be able to reach any of those if I don't write this out first.
"This is your life and it's ending one minute at a time"
If a burn-out was a 500-piece puzzle picture of an adorable puppy overdosing on methamphetamines, this column would be me pouring the pieces onto a spinning plate and trying to put them together in front of you while blindfolded with duct tape. With three minutes to spare. I'm just that cold.
Burn-outs are nothing new to me. They happen every two to three years. Or, even more precisely, they happen every time I begin wrapping up my next album or end a tour. The combination of being away from my own reality, whether in another city or inside my own head creating a record, mixed with a constantly hectic schedule is an ever-evolving mind-fuck. What should be some festive, celebratory occasion actually has an opposite effect. It tends to jade me. The same way it jades Neil Armstrong to look at the Earth from the Moon's perspective, stare in amazement, questioning the vast mysteries of the Universe and God's purpose for us all, then within the blink of an eye murmur to himself, "Ehh, let's get home."
Burn-outs are a temporary hiccup in what's usually been a momentous run of focus and drive toward all parts of life.
I think all musicians go through burn-out. Not from making music, but from dealing with all the life stuff that gets in the way. I usually start recognizing the signs of burn-out about three seconds too late. It's like recognizing your plane is going down after the pilot snatched the last parachute. You might as well just embrace the impact and make an S.O.S. sign from some debris.
"With a gun barrel between your teeth, you speak only in vowels"
I know this sounds border-line insane, but it's not. There's no borderline. All musicians have a certain element of insanity. Rather, all humans have a certain element of insanity to them; musicians are just stuck with the gift of putting our insanity on full display. And if we're lucky, you sing along to it when it's all said and done.
,i>"Self Improvement is Masturbation. Now self destruction…"
The greatest thing about burn-outs, though, are just how important they are. They're the moments when you can no longer hold up your house of cards. They're the moments when you realize that your plans will have to bend to the will of the Earth before the Earth will bend its will to your plans. The Earth is annoying like that. But it allows you to take time out and really re-establish the balances in life that you've chosen and sacrificed for music. Some of those sacrifices are worth it. Some aren't. And it's different for everybody. All I can say is, use these moments of depression and burn-out as the tools they are supposed to be. Stop worrying about your career. Stop worrying about relationship issues. Stop worrying about money problems. Let it all go for a minute. Let it go before it feels like some doctor just pumped your brain with anesthesia. Let it go before it takes an electro-shock therapy jolt to the temple just to make you feel a tingle in your spine.
"I want you to hit me as hard as you can"
The most amazing thing about burn-outs, for me at least, is that they are almost always followed by some of the most amazing runs in my life. Whether career or personal or both. It's all a matter of navigating through it. If you're really special, make it rhyme to a melody and you might just a have a real song on your hands. And it might just be worth it. Or not. Who knows?
"This is the most important moment of your life, and you're off somewhere missing it"
So embrace the burn-out. Embrace everything that comes with it. It can truly be one of the most beautiful tragedies you'll ever watch, and it's right there on the back of your eyelids. I'm watching mine right now. Needless to say, I need a vacation.
"Every Evening I died, and every morning I was born again, resurrected"
But this is an advice column. So as far as advice goes, ummm … Don't do drugs. Live for the moment. Think glass half full. Unless the glass is half-full of Bleach. Then, don't even think. Just smile and drink it.
See you next month! ©

Citybeat Article #9: The Hip-Hop (Un)Scene "We Don't Believe You, You Need More People"
They say it's all in the timing.
In my last column I shouted out the Thursday night Open Mic at Baba Budan's in Clifton Heights. The following week was its final week.
My column timing is officially delayed like Dilla snares.
I'm finding myself wanting to go two different routes with this month's column. Its original intent was to give an aspiring artist the necessary outline to build a successful independent career.
But when I would try to write something as basic as "How to work with a DJ," I felt like I was jumping ahead of myself.
This is what brought on the deeper columns (see last month's "Smells Like Scene Spirit"). So before I continue to jump into the technical aspects of independent success — touring, publishing, distribution, pressing, publicists, etc. — I want to continue building on the overall mentality of the artist and the scene that precedes it. If we as individuals and as a collective don't have the right foundation, there's no point in trying to build a career on top of it.
With that said, I wanted to build on another "foundation" column, this time about the general attitude of an artist and their team: the time it takes to build a career vs. the time it takes to convince people you have a career.
Waaay back in the early 2000s, my partner Zone (under the group name Definition) and I dove into the Cincinnati Hip Hop scene. From UC campus open mics and Top Cat's battles to Greenwich Tavern spoken word nights and Scribble Jam ciphers (remember those?), we tried to be everywhere possible. Since we weren't originally from Cincinnati, we always felt like we were behind everyone else, just trying to keep up with everyone's "move-making," if you will.
Every week, we would meet someone who was making some major move out of the city. MC so-and-so just signed to Dipset; producer so-and-so is on Wayne's new record; this group just got signed to Universal; that group just went triple platinum … yada, yada, yada.
It sounds naive and stupid to believe that all these people were really doing the things they said they were, but at the time we were, well, naive and stupid. Maybe not stupid, just young and thus lacking perspective. Because of this, we did everything ourselves to try to keep up — put out a CD, got distribution, got non-paying shows throughout the Midwest. All for the sake of "catching up" to all these artists who were on the verge. Eight years later, they're still on the verge.
When you're fresh into a scene, it's hard to know who's telling what truths and who's leading on. The older I get and the more I fully dive into a career in music head-on, it becomes more obvious who's on their game and who's, for lack of a better term, full of shit.
Once I began to undress the flamboyant accessories from artists' "truths" about what was popping in their career, I was even more mystified. Why would an artist, time after time, tell us what they were about to do, all the huge moves they were making, and then do nothing? Why build an entire career out of telling people about your amazing career?
All the work and planning that goes into it could go toward, well, making a career.
I imagine it's an insecurity issue from the get-go. The nut-check at the urinal as they say. Y'all are the reason I pee in the stalls now, metaphorically speaking (except for Top Cat's — I refused to pee in a horse trough).
It's 2010 and it's been a recession for a while now. Time to let go of "making it rain." Time to let go of false accomplishments. Time to let go of the ego. Time to let go of all those "moves you're making." Time to let go of the idea of status being a priority over the love of music. This ain't high school.
We see what the major artists are(n't) selling. The Internet has opened all celebrity musician lives for us, letting us peek into their reality instead of their facade. We can read any major magazine or Web site to realize Waka Flaka is on because his mom/manager manages and books for Gucci, Nicki Minaj and OJ the Juiceman.
If we can see through them that many miles away, why not the folks in our own scene?
I'm not writing this in a bitter, accusatory manner — at least I don't mean to. It's just an opportunity to cleanse. The most successful long-term artists in any music genre are there because they care about the music. Notice I said "long-term." Kanye, TI, Wayne, Jeezy, Jay, Nas all care. Drake, Cudi and J.Cole, they care. They aren't going anywhere, save a drug addition, religious conversion or crazy future sex scandal.
So I ask everyone in the scene to just remind themselves why they're in this. The beauty and excitement of music? Or the status? If you know it's the status, just step aside. It's no big deal. It betters the scene, the artists and the people.
I write this out of love and ambition for everyone in the scene. Don't let the ego trip up your genuine talent. Success off of being one's self is the best thing any of us can hope for.
ILL POETIC performs at The Mad Hatter May 13 in support of the re-release of his The World Is Ours album and the new Approach release, Aloe Park, which he produced. For more info, go to illpoetic.com.


Citybeat Column: The Hip-Hop (Un)Scene #8: "Smells Like Scene Spirit"
Last week I proclaimed MySpace dead. A lot of people agreed, others didn't. Maybe I was right, maybe I was wrong. To its credit, I will say that MySpace taught me a valuable lesson.
Way back in 2005, as I would get friend requests I'd always look at a person's musical preferences. Most of the time these people, no matter what age, race or gender, would have the most versatile list of artists and genres on their playlist. In the digital euphoria of MySpace, it seemed that everyone listened to everything. In the digital world, it seemed as if every artist was influenced by every genre of music they could get their hands on.
It was really encouraging to see this, since in the "real world" of the music scene it felt like people only listened to and attended events for the music they liked or, better yet, were supposed to like.
Mind you, this was 2005-06, so I could feel a shift coming (and we are in the midst of this shift), but at its core a lot of things in the typical "music scene" haven't really changed. So let's dig into this a little bit.
Why are local scenes so split? Not to say there aren't people who venture to other scenes in the city, but the majority stays put in their comfort zone. I could make this point for most music scenes in the city, but I'll stick to Hip Hop since that's what the column's title tells me this is about.
My original plan for this article was to tell the "artist" how to maneuver through a local scene, but I couldn't really bring myself to write it without questioning the idea of a scene itself. How can you maneuver through something so big and small at the same time? How can you maneuver through something that's constantly changing and evolving, yet somehow at its core remains exactly the same?
Before you can answer any of these questions, you'd have to dissect what a scene encompasses, good and bad. The most interesting thing about a music scene is realizing how many small scenes it's really comprised of. In fact, if you were to keep dissecting a music scene into all of its micro-scenes, I'm pretty sure it would just be hundreds of little scenes with about five people apiece in them.
So when does a micro-scene of the local scene go from specializing in a certain vibe and representing it to closing off people who don't fit perfectly in but still genuinely love the vibe? What happens when this is the precedent for how the scene is built? What happens when a scene turns into a high-school lunchroom, separating the nerds, the athletes and the artists? Didn't we become musicians to escape the whole caste system thing?
I honestly don't know the answer, but I do know this: When artists don't reach outside of their safety zones, music stagnates. Artists end up collaborating only with like-minded friends, not reaching into and experiencing the scenes around them.
I don't mean this to come off as condescending by any means, more just an open invitation to open imaginations. It's a recession. Musicians don't have shit except an imagination and time on their hands. We might as well make the most of it. As I said in the first column, with the structure of the music industry shifting so quickly toward independent artists and scenes, now is a perfect time to reach across genres and create new sounds and ideas that help to define the feel of this city and region.
I rarely single out an artist or event in this article, in fear that I'll leave someone or something out and end up pissing everyone off. But I will highlight this because I feel it's even bigger than the people involved in it: For the past two years, on a Thursday evening, you can walk freely into Baba Budan's near the University of Cincinnati and witness poets, rappers, Reggae artists, Folk singers and more taking turns expressing themselves. When this event started, I fell in love with it. It became even more incredible when the artists of different genres began to collaborate a build new sounds and ideas.
Merging imagination to create communal emotion is amazing, and the artists that perform a Baba's open mic understand that. No pretensions, no ego, no bullshit. Just music and love. A nirvana.
This is what I see as the potential for something greater than a party, an event or an artist "blowing the scene up." This is the type of creative vibe that builds the potential for something no single person can create.
It's people led by art and not art led by people.
This is the scene I fell in love with, and it's the scene I challenge all of us to continue building. We owe it to ourselves and to the generation who will one day continue its legacy.
Citybeat Column: The Hip-Hop (Un)Scene #7 "www.myspaceisdead.com"
Rappers killed MySpace. So did producers.
If you didn't know any better, you'd think MySpace was the digital manifestation of the dude every gangsta rapper in the '90s talked about killing. That's how bad we killed MySpace.
We killed MySpace like it was a club full of fine women and we just had to run up in there 30 deep, full of testosterone and CDRs of us rapping over Jay-Z instrumentals.
If you've gotten spam in your junk mail folder offering you sex pills and the money of a rich Nigerian prince, it ain't got shit on the type of spam a rapper, producer or promoter will hit you with on any given day of your ancient MySpace account. You don't know spam until you get 30 messages a day telling you why you should buy some guy's beats, mixtapes, show tickets, verses, old video games or whatever the hell he's trying to sell you. You don't know spam until a random rapper from 15 states away is demanding you to "support his movement." That's a lot of pressure for someone who can barely support himself.
I know MySpace is old news, so I'm not going to waste a whole column on it. The reason I bring it up is to discuss the mentality behind this type of shameless promotion. Unfortunately, it's got to be working at least a little bit or artists would've stopped by now.
My fear is that I start seeing folks move from MySpace over to Twitter and Facebook, doing the same thing. Don't. The reason regular people moved out of the MySpace neighborhood is because there were door-to-door salesmen peddling music and events 200 miles away every hour of every day. So before all the "Needle-Nose Ned" (see Groundhog's Day for reference) insurance salesmen-ass artists venture over to the new popular social networking arenas, please adjust your sales pitch just a little.
I'm not going to give off some arbitrary list of rules artists should follow. It's all in the mentality of how you approach these sites and opportunities in the first place.
One thing I've learned to be careful of is killing an opportunity before you've even studied and realized exactly what it is. Social networking promotions and building is a chess game, not checkers: It's not about the immediate victory as much as it is the one three steps ahead. Whereas sending massive tweets and messages about what you are doing and your shows and your music seems like you've promoted and "done your job," it won't work.
People don't like to have an artist bombard them. It's annoying. The most successful artists and entrepreneurs succeed off of word of mouth from other folks.
I always think of Jill Scott as one of the best examples of this technique. Even before the Internet was really popping, she was that girl that you just kept hearing about from other people. She didn't even have a video out, but everyone kept saying, "This girl is the truth."
Scott wasn't the truth because she manufactured some false hype about herself. She was the truth because she stayed in the cut, perfected her craft, learned her talent, built herself a team and created a sound. Self-manufactured hype is X-Ray see-through and it never lasts a career. I'll give you one song, but career? Not so much.
Treat the digital world exactly how you would treat the real world. Everyone on these sites is a real person, so act accordingly. For example, if you wanted to holler at a DJ about some business in a club, you wouldn't put everything out there in the middle of the club. You'd wait until after he finished spinning and talk to him on the side of the booth or backstage.
Same with online interactions. Don't leave comments and tweets that everyone can see just to "up your status" because you're seen talking with "Famous DJ So-and-So." Inbox the person directly and ask for their e-mail. Hit them privately with a business matter if you want to actually handle business.
If you notice that force-feeding CDs to people with no sales etiquette in front of a club gets you annoyed looks, you would stop doing it. Same with online marketing. If no one is responding to your constant promotional messages and invites to buy music, then stop doing it. Let them come to you.
Treat people like human beings and not potential money. Treat people like human beings and not "someone who can do something for you." It's not sexy, and they know the difference.
I'd like to delve deeper into some of these ideas, but my man Hubert over at www.fryinginvein.com does a much better job and doesn't have a word-limit. So I would advise going over there to research further.
(P.S., see how I did that? That's cross-promotion. He holds me down on advice and ideas, so I bring folks over to his advice. It helps everyone communally.)
Citybeat Column: The Hip-Hop (Un)Scene #6 "Road to Riches"
I have a theory, and the theory goes like this: Your dream is kind of like the moon — the further away you are from it, the more beautiful it looks. The closer you get to it, the more you see the reality of it: the craters, the flaws, the reality.
This theory has led me to another theory: You are not ready to reach your dream until you're prepared to deal with the full realities of it.
If "me" from 2002 could see me now, I'm sure he would be so excited that he finally "made it." I used to think I'd be set if I ever made it in a certain magazine or collaborated with a certain artist. Shit, sometimes I forget when I reach a goal I've set for myself so long ago because I've been through the trenches to get there. Once I did reach that goal, it ultimately seemed a lot less luxurious than I had envisioned it from afar.
You hear this all the time from your favorite rapper when he finally gets on. Eminem was a big one. Kanye as well. Right now it's Drake. Listen to his song "Fear" as an example.
I don't say all this to depress you or deter you from your dream. Actually, it's quite the opposite. One of the most important lessons I've learned in years of doing this (possibly the most important) is that you have to enjoy the path more than the goal. I'll repeat, because, as Lil Wayne says, "Repetition is the father of learning" — you have to enjoy the path more than the goal.
This is more important than mix downs, promotions, artwork, Web sites, publicists and touring. It's more important because it encapsulates all of those things. And without this attitude, all those things accomplished will have been in vein.
If you're not in this industry as an artist for the right reasons, I advise you to stop now. Stop reading this column. Stop writing. Stop recording. Stop performing. Stop all of it. You will become bitter and upset at life and no one needs that energy put into the world. Go do something that makes you happy at being you.
But if you are in this game to push your craft forward and create a voice or sound for yourself, then please keep reading. You are the person most likely to enjoy the path more than the goal. Not to say you shouldn't set goals and enjoy them when you accomplish them — just sayin' don't let them hold too much weight on your soul.
One thing I've learned over the past year is that you don't always control your career. You can't perfectly plan your future. You never know what song people are going to definitely react to or how they'll perceive you on stage. This is what makes it so damn fun — the spontaneity of it all.
In May 2008, I dropped a mash-up record that ended up getting covered everywhere from allhiphop.com to Rolling Stone. Wasn't even my idea to make it, I just did it — knocked it out in a weekend without a second thought. I released it online that Monday and it did more for me than either of my meticulously planned albums.
It's hilarious when you think about it, but it's also beautiful and annoying as hell. However, it really drove home that lesson to just have fun, be creative and enjoy every moment along the path.
All this leads me to my next point: Fuck status. Fuck the idea of status, especially in a local or regional scene. It's stupid and it's dangerous. I used to be on it too, which is why I'm trying to throw out this warning.
It's cool to be hungry and want to be great, but if you're looking at the guy to your left or right to see what he's doing, you are not looking forward. Being worried about how people perceive your "status" in the scene is stupid, especially in the grand scheme of the national and international scenes. If you go through your career with the sole intent of trying to get ahead and not for the lessons and good memories sitting all around you, you fail.
This doesn't mean you shouldn't be self-aware and make calculated moves toward reaching the audiences you want to reach as well as a money-generating career. Just cut the excess out. It makes it so much easier and enjoyable.
Getting to live a life centered on your passion is the most amazing feeling in the world and really puts everything in perspective. It's not press status, networks, backbiting, shit-talking, DJ payola or radio spins.
It's an outlet for stress, an inlet for joy. It's a series of moments of real humanity that you get to help create and then share with a group of strangers. It's a memory for someone you've never met and never will. It's one second played out to infinity. Communal bliss.
It keeps us young forever. It's the closest we'll ever get to walking on the moon.

The Hip-Hop (Un)Scene #5 "What About Your Friends?"
For anyone who's been reading these columns, I hope you're catching on to the natural progression of the format. We started at the earliest stages for a new artist and are leading up to the more advanced business and musical aspects of the industry. With that said, at the end of my last column I mentioned that I'd be following up this month with a DJ Drizzle interview regarding the other sides of the artist/DJ relationship. After our interview, however, it occurred to me that what he and I spoke about didn't fit into the natural progression I'm going for, so I'm saving that column for another day.
Instead, I thought I'd get one of the most important issues out of the way from the jump.
Writing, recording and performing is all good, but once you hit a certain stage, the foundation of your business must be on point. If not, just stop now. Seriously. Just stop.
Nearly all of us begin making music with our friends. And if they weren't our friends before we made music with them, they probably will be afterwards. This is fun and all, until money starts coming into play. Who pays for studio time? Who pays for the mix downs and artwork? How will you split money from the CDs sold? Will you put it back into buying more product? Who do you trust to handle all of this?
I'm not here to give you percentages and numbers. That shit gets very boring very quickly. Instead, I figure I'd give some personal philosophies on mixing friendship and business (I won't move into family and business — can't fit that into an 850 word limit).
If not handled right, this is when simple and long-lasting friendships quickly turn into a tragedy. A majority of scene vets reading this are probably thinking of at least three separate situations where shit went down shady and friendships dissolved because of it. Even beyond your local scene, how many dynasties in music have fallen because of dumb shit like this? Did you hear Beanie Siegel talking about how Rocafella started falling apart just a couple weeks ago? He merged friendship and business and failed because of it. Old heads: Wonder why Pete Rock and CL Smooth stopped coming out with records? Eric and Parrish? Hot Boys? Dipset? "First the Fat Boys break up …"?! Yeah I thought so. It's not worth it.
Now, most people don't like the idea of bringing contracts out for business situations amongst friends, because it implies a lack of trust. I disagree. I think friendship is a very delicate structure and there's a lot leaning on it already. Why add something as heavy as business and money onto it? You're asking for a collapse. Also, I tend to believe that most sour business dealings aren't intentionally shady. Rather, I believe two people usually have different understandings of what they stand to gain from a business transaction with each other, and rather than put it on paper (communication in black and white print), they verbally agree, all the while assuming the other guy knows what they mean. This is dangerous, because there's no point of reference for either business partner to go back to. Everything is hearsay, and this is the point when a friendship dissolves.
Trust me when I say that it's hard to go back to a friendship once a business partnership falls apart because it wasn't put on paper. It's like being friends with an ex after she slept with your brother because she's "still a really nice person." It's just not the same.
With all that said, my philosophy is this: Creativity is the sun that all other planets orbit around. Creating great music and using this chemistry to do it should always be your first priority. Everything else (business, etc.) revolves around that. Once you and your partners decide you might have some good material and it's time to mix down, get artwork, print some copies and start rocking shows, then it's time to start putting numbers down on paper.
Keep in mind that you shouldn't even be making personal profit for a while. Any money you and your team make should go right back into the pot of recording, mix downs, pressing and promoting. There is a lot more that goes into making a successful team (personality traits, jobs, etc.), but it's important to lock the foundation in early. If you start shaky you can't go back, and it will always come around to bite you in the ass.
In closing, look at it like this: If you can't handle the small business of selling CDs as friends and business partners, what would make you be able to handle the big business of running a label and dealing with investors, publicists, booking agents, etc.? Treat these "small moves" no differently than "big moves." At the core, there's really no difference. All money is money and all business is business.


The Hip-Hop (Un)Scene #4 "Go DJ (pt. 1)"
I remember the first time I decided I wanted music to be my career and/or life.
Still in high school, my friend Zone and I went up to Columbus to see Method Man and Redman perform. When I saw Method Man walk over the crowd's hands like Jesus walked on water, it was a wrap. Those dudes knew how to put on a show.
Now, a week prior to that, I had just rocked my first ever talent show at my high school, and you couldn't have told me we weren't the flyest performers on the planet. After seeing Meth and Red, as well as video of my wack-ass performance, I was quickly humbled.
Good DJ/artist combinations are hard to come by, but when they're good, they're great. With that said, the next few columns are going to deal with the DJ/artist relationship.
Now, depending on where you hustle in the Hip Hop spectrum, this can mean one of two things, so I'm splitting them up into two columns.
The first one deals with the artist and DJ in the traditional sense — show interaction and performance. Next time, I'll get into the club DJ who promotes and pushes an artist's mixtapes and projects (think Drama and Jeezy pre-Twitter beef).
To give both sides of this equation, I had to take in some advice from DJ Rare Groove. For those who don't know him, he's DJ'd in Cincy for over a decade, is on local radio, tours the world and, most importantly, lives off of his craft. The man knows how to put a dope set together (and his record collection looks like the stockroom at Kmart).
One of the biggest ideas Groove brought to the table was the actual set up of an artist's show. To paraphrase, a good show is broken up into three parts. How you want to split these sets are up to you.
But splitting your set into sections allows you to adapt to the type of club or crowd you're performing to. Maybe you have a really good set of female songs that would work better at Baba Budan's than The Ritz. It's nice to have that in the back pocket.
Rehearse with your DJ as much as possible for each show. Not only does it make your set a lot more seamless, it allows both of you to nitpick the set and come up with little intricate ideas that separate you two from everyone else.
Find a good rehearsal space where you can move around (preferably with a mirror in front of you). Study your movements, both with your body and how you move across the stage. Study footage of past shows to see what you like and don't like. Study your favorite performers live or on YouTube.
As you begin getting paid for shows, the artist/DJ split for money should be discussed before the checks are cut. If you're not sure what a DJ should get paid, ask other artists or DJs how they split and go off of that.
Show up at the venue for sound check (I've been bad about this in the past). Study the sound, room and mic before the show.
Oh, and help your DJ carry all his shit into the venue for sound check. Don't just go post up at the bar until you go on. All MCs have to carry is a mic. DJs have a little more to worry about.
Finally, not to get all KRS-One on y'all, but I have to drop some quick performance commandments. I'm not saying I'm the dopest performer in the world, but these "trends" need to stop, because, from a crowd perspective, they make you sound straight shitty.
• Thou shall not rap over thine vocals (it sounds like shit)
• Thall shall not bring 40 of thy boys on stage (Thou art not Wu-Tang)
• Thou shall not cup microphone
• Thou shall not clap for own performance and B-Boy stance thine other acts on bill
• Thou shall not grab genitalia excessively unless female or covering Prince. (I did this on my first televised show and all my mom could say when she saw it was, "Why are you grabbing yourself?")
• Thou shall look at audience when performing
• Thou shall not spend thy set blaming ye soundman and DJ for not making your set bang (if there's an issue, address it after the show and work around problems)
I never said there were 10 commandments. Rinse and repeat the first three.
A DJ and artist's interaction is vital to a good show. Something I learned years ago is that no one will remember your lyrics and no one will remember your beats — the audience came to make a moment and memory. It's your job to give them that memory, and it's easier said than done.
Don't make a memory for yourself at the expense of the people. This is how you stand out.
Next month, I'll return with DJ Drizzle to break down the other side of the artist/DJ relationship.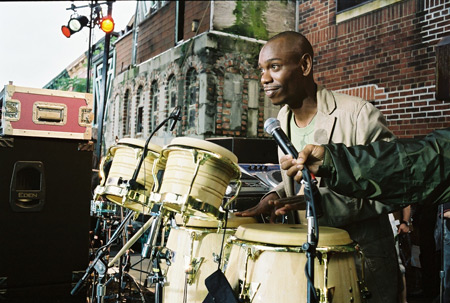 The Hip-Hop (Un)Scene #3 "Turn My Headphones UP"
Suge Knight used to whoop an engineer's ass if he rewound the tapes too far during the recording sessions of 2Pac's All Eyez on Me. Kind of extreme. And most likely not the most conducive working atmosphere for an engineer.
One thing I tried to stress in my last column was the importance of knowing the other person's job and how it pertains to you. This month deals with the engineer-artist relationship. As the artist, the studio is your home. If it's in your home, that makes it easier. But unless you're installing an official studio in your spot, you'll still have to hit the real thing for your final mix and mastering, if not your final vocal cuts.
Engineers usually charge per hour, so you're already under time pressure. I don't always like this because it can stifle the artist's creativity and freedom. To counter this, it helps to be prepared in a few different areas:
Feel out the vibe of the studio when you go in. The engineer sets the tone for the spot and as an artist you need a vibe that nurtures your type of creativity. You need an engineer who can work fast and ride your creative runs. It makes all the difference when it comes down to the growth of your vocals and delivery and how your final takes come across for the song. It's the difference between a dope song and a classic. If you're not reaching for classic, what's the point?
If you write your lyrics out, have them prepared before you hit the booth. It helps to have them memorized or even pre-record them in a home studio. Know how you want your delivery, tone and flow to sit in the beat. Try to think about how the engineer mixes your voice on tracks, and record with that in mind.
Watch everything the engineer is doing when you're not in the booth. Ask him what equipment and software he's using. Ask him to explain what he's doing with your vocals if you don't know. Don't bug the shit out of him, but don't be afraid to ask.
Don't fill the studio up with a whole bunch of yes-men friends who just want to go smoke the spot out. Bring people with you who know your style and aren't afraid to tell you when a vocal take is garbage or how you need to stop rapping like Lil' Wayne 'cause a million other people already do that.
Get on YouTube. Get DVDs. Study studio sessions from the greats. Herbie Hancock, Quincy Jones, Pharell, Dr. Dre. You'll notice a scrawny little white dude (not always white or scrawny, but hilariously almost always) sitting in the corner turning knobs? That's the engineer. Study how emcees conduct themselves in the booth and with the engineer.
Learn studio language as well. Though some words change, the basics for Hip Hop artists are:
• 2-Tracking: Using the instrumental in full to record and/or mix your vocals.
• Tracking out: Separating out the individual tracks of an instrumental to mix.
• Doubles/Adlibs: Tracing your main vocals with another vocal track for accent.
• 16: Standard verses are 16 bars, hooks are eight. Know how to count your bars so you can tell the engineer where you need record on the track.
• Punch-In: If you messed up the second half of a verse, but the first half is flawless, a punch-in let's you come in off your first run. It helps to know how many bars in you need to punch in to communicate with the engineer for a more efficient run.
(One piece of thought about doubles and adlibs: A lot of rappers do a lot of doubles/adlibs. It tends to suffocate the personality on a track and acts like a safety blanket for any insecurities the rapper may have about how their voice sounds. All the greats — except Young Jeezy, who actually sounds doper with a lot of adlibs — use one vocal track and occasional adlibs.)
When you leave, you might need to take your session with you, so bring a flash drive or some blank CDs. This is just another little thing an engineer will dig and remember you for.
The more you can communicate in an engineer's language, the quicker things go, the more you'll get along and the more money you save. One thing I've learned over the years is, most engineers get so sick of dealing with folks who have no idea what they're doing and don't come prepared. You'll stand out.
By no means is this everything you need to know about how to work in a studio, but it's a good start. I'd recommend checking out books and going online for further knowledge. If you have a producer, check with them as well. Producers use a lot of the same programs engineers do and there is a natural synergy between the two.
So far we've knocked out producer/artist chemistry and artist/engineer chemistry. Next month we'll start jumping into DJ/artist/band chemistry.


The Hip-Hop (Un)Scene #2 "Beats, Rhymes, and Life"
Recently, CityBeat gave me a really big word limit to tell you guys stuff I know 'cause I write good. Also, as I said before, I dropped out of English 103 and college in general, which makes me a winner.
A quick summary, if you missed the first column: the Cincinnati Hip Hop scene of the 2000s didn't necessarily get the most thorough education on how to achieve long-term (or short-term) success as independent artists or as a scene in general.
I'm writing this monthly column to add whatever I've learned amongst my long, arduous years battling, performing, recording, hustling, sleeping on NYC subways, networking, living, breathing and shitting music. I want to do my best to make this chronological.
Some artists might be past the early stages, but others still need it. The next few columns are going to cover the earlier stages of my experiences before moving onto the bigger steps, from interacting between the different people that help make your record a record to how to get your name buzzing locally.
The first is always the easiest. Everyone in the music scene has a passion for something. Maybe it's emceeing, maybe it's producing. Maybe it's graphic design or throwing shows.
Whatever it is, studying your passion inside and out goes without saying. What's forgotten is studying as much about the next person's passion, and how it can help to build your career a little bit faster. The first of these connections usually happens between the emcee and the producer. This, of all connections, is the most important to begin with.
Think global. Major labels are falling apart. Independent labels and artists are picking up that slack. This means that slowly but surely local artists in every city aren't seeing the worth in trying to get that "huge deal."
Over the past few years, and even more so in the coming years, this is the change agent that gives each city the opportunity for its own sound and movement. The movement might not ever blow up as big as Atlanta or New York, but so what? It'll be a sound and vibe dedicated to that region.
This sound starts with the chemistry between a producer and emcee. Think back to the '80s and '90s. Rakim needed Eric B. Chuck D needed the Bomb Squad. Dipset needed Heatmakerz. Talib needed Tek. When everyone starts running to the same few producers to get their "street" track, their "club" track, their "conscious" track, etc., it gets played and boring real fast.
The producer/emcee chemistry is dependent on a lot of things; mainly, the real-life friendship of the people behind the artist names. The more a producer and emcee build, the more comfy the producer feels about letting the emcee co-produce some ideas a little bit. Maybe the emcee has ideas about a sample to flip, or re-doing drums on a song. Producers can be very prideful of how they make a beat, and if they don't have that trust factor with you when you tell them to change something, they'll just look at you sideways. (Trust me, I produce.)
Same for emcees. When the chemistry is there, a producer feels that much more comfortable telling an emcee to try to flip his delivery to fit the beat at a new angle. The best songs are made off compromise. Once you realize that, as egocentrically fun as it can be to write and produce the flyest shit on the planet, you still need an outside perspective to tell you when you're falling off. That will make you an eternally better artist.
Since I emcee and produce, I try to look at each from the other's perspective. One thing I've learned doing both: I can't tell you when the producing ends and the songwriting begins. They usually tangle up in each other all the way to the mixdown.
One of the first artists I really experienced working with who could pull this off was Piakhan (Cincy legend, do y'all research). I have to use Khan as an example of an emcee who knows how to work with a producer and not just "rap over a beat." He brings an ordinary-ass beat to life as a full-fledged song.
Once our chemistry as friends and artists was cool enough, he could tell me how to flip the original beat to further see his vision out. Now I never even question him because he always makes classic songs off what I thought were just run-of-the-mill beats.
I know a lot of this column seems like kindergarten to a lot of artists already running around the city, but really think about it. Sometimes I think I've moved past something like this, but you never know when you can still grow at something you thought was basic. Not to mention, covering this allows me to eventually cover what some of you might be waiting on: dealing with promoters, booking agents, publicists, record pools and labels.
Stay tuned for next month's column, unless CityBeat brings back Savage Love and uses my page for massage parlor ads.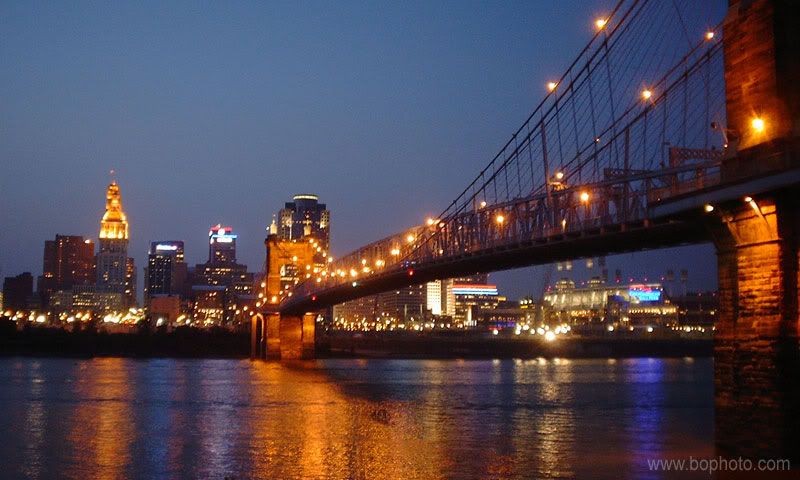 The Hip-Hop (Un)Scene #1 "Cincilluminati"
Mike at CityBeat has been gracious enough to give me a monthly column to exercise my thoughts and ambitions on the Cincinnati Hip Hop scene. So without further ado, here's a brief synopsis of who I am and why you should care to read to the bottom of this column (heads up: I dropped out of English 103 — I am no Kathy Wilson).
I moved to Cincinnati from Dayton to attend UC in 2000. I dropped out of college a couple years later, but only because I was too addicted to the Hip Hop scene. What started out as high school ciphers and battles back in Dayton grew to UC talent shows, Top Cat's battles, Scribble Jams and a lot of forgettable shows. All necessary and most fun. Over time, I branched out of the city, along with my cohort, Zone (together, we're Definition), and began performing around the region. It was at this point that something began to not sit quite right with me.
Let me rewind, though. I look at a scene like a family and it's my personal belief that the parents of a scene have a responsibility to teach their children how the world they grow up in works. In the early 2000s we were those children, running around with flyers and burnt CDs, trying to get signed to any label we could because that's what we thought we were supposed to do. It was then that I began to have a growing issue with the lack of knowledge that was being passed down to our generation (spanning the early and mid 2000s).
It's counterproductive to name names, and there were certain key people (whaddup Piakhan) who were fantastic teachers. But for the most part, nada. On some Onyx shit — "All we got iz us."
This was a blessing and a curse. It might've taken us longer to establish ourselves, but now we're doing it. And we're doing it with a full understanding of how the system works. No disrespect to the groups and artists set to blow in the early and mid 2000's (there was one every summer). I genuinely respect their drive and music. But with all due respect, fuck these false starts. Every summer felt like the summer, the summer Cincy would "finally" be on the map. But it doesn't work that way. It works on a much more long-term level and takes a lot more work.
We can't continue to hope for some magical beans to grow an interest in our city's scene. How can a major label sign any of us when they're laying off A&R reps and VPs across the country? Even superstars on a label are on some Mobb Deep shook shit.
Last fall, I left Cincinnati to gain a perspective of the city from the outside in. And even I wasn't prepared for the perspective I'd gain. The same city that suffocated me from the inside looked so beautiful on the outside. After touring the world, traveling back to New York and then (kind of) settling in Columbus, I can truly appreciate the talent that the Cincinnati Hip Hop scene has to offer. And it's building something special.
However, from my perspective, I also see the limitations that still exist in Cincinnati for artists. These monthly columns are like chapters. If you save them and put them all together, they should be able to build a template for the 2009 (and beyond) Cincinnati Hip Hop artist/group. I don't claim to know everything, but I've seen and absorbed a lot over these years, and I want to pass the info down in the most responsible manner possible.
Over the next year or two, I'll be writing columns in CityBeat that deal with a range of issues for a lot of people in the Hip Hop scene. I've been an artist, producer, promoter, booking agent, engineer, graphic designer and a lot more. And I'm honestly not the best at any of them. But I definitely know what the hell I'm doing at all of them. With that said, I want to share the perspective of each of these job titles so that everyone in the scene can understand what everyone else does a little better.
Every time I come back for a visit, I get re-inspired to do this because there's just too much fly shit going on in this city for it not to be noticed. I'll be working my ass off 25 hours a day just the same to spread my and our vibe out to the country, press and world the best I can. All I ask is that everyone just keep hustling forward. In the interest of city and scene unification, I honestly believe we can do this. And if we can't, the generation following us should have a hell of a blueprint to lead off with.
If you've made it this far, then stay with me every month. You might never use 95 percent of this, but it's worth it for the free 5 percent. And CityBeat is free. So, in the immortal words of George W. Bush, "Fuck it."