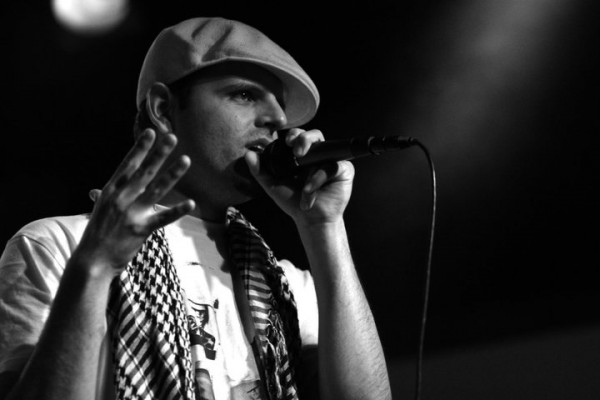 ILL POETIC
Preface
The Following bio is a brief overview of my life and music accomplishments. Though I don't have the room to document every release and show, know that most of these chapters are filled with long runs of failure peppered with momentary lapses of Success.
Chapter 1
(1982)
Born.
Chapter 2
(1983-2004)
Childhood. Yada Yada.
Stuff happened.
Only Child. Loving Parents. Free Lunch Programs. Listened to Ice Cube and Kris Kross
Yada.
Met my best friend in High School. We drew pictures of the Rza and Nas in art class. Then we started rapping together. Then we both went to college in Cincinnati and became a group named Definition. Then we both dropped out of College. Then ironically we dropped an EP. Then I battled a lot at places like Scribble Jam where people cipher and complain about stuff.
Chapter 3
(2005-2007)
Then I made an album called "Illumination". Then I Made an album called "The World is Ours". Then I toured the US and Europe for "The World is Ours". Then people wrote about "The World is Ours" on their websites and magazine pages. Then they nominated me for awards in Ohio and stuff.
Chapter 4
(2008)
Then I didn't know what to do, so I made a mash-up record using Joe Budden & Portishead. Then more people on websites and magazines wrote about it. Then Joe Budden liked it. So then I made another mash-up record with Outkast & NIN. I don't know if either of them liked it, though.
Chapter 5
(2008-2009)
Then I quit my job to do music full-time, moved to Columbus and produced an album for this guy named Illogic called "Diabolical Fun". Then I toured some more. I also helped start up a couple companies named VoiceOfRzn Management & Consulting (We do management and consulting), and Definition Music (yup, with my "Definition" friend Zone, and my other friend HuntorPrey). I also became an accidental columnist for Cincinnati's Citybeat Magazine.
Chapter 6
(2010)
Then I did a record with a guy named Approach called "Aloe Park". Then I toured some more.
Chapter 7
(2011)
Finally, our company is growing. A successful tour in the Spring led to some great festival shows and my official forray into Movie Scoring and Sound-Design, courtesy Arris productions, "The Enemies You Keep".
Chapter 8
(2012)
We sparked 2012 off with a follow-up Ohio tour, including myself, MMG artist Stalley and LxE for the Uncool (King VADA), performing at Massilon, OH's famed Lincoln Theatre for Stalley's coveted Homecoming Show. We followed with the campaign for my new EP "Synesthesia: The Yellow Movement", dropping the single "Gone" in May and amassing over 55,000 views. After signing a label deal with EMPIRE Distribution, we went on to release "Synesthesia Yellow", my first official follow-up to 2007′s "The World is Ours". The formation of a band and a midwest tour with Rhymesayers artist Blueprint would follow.
So now I:
Ø  Rhyme
Ø  Interview other budding artists, like a pretend-journalist
Ø  Tour
Ø  Design logos, album covers and flyers for myself and other companies
Ø Movie Sound-Design & Scoring
Ø  Manage, promote and consult with VoiceOfRzn
Ø  Help to build an entirely independent machine that allows myself and my surrounding artist friends to record, press, release, market, and tour their music out on their own terms through Definition Music.
Epilogue/About the Author
After two years of building all of our background businesses up, I'm finally ready to actually drop some more music on an organized platform. This is what's been taking so long between releases. After this, expect music to keep coming on a regular basis. I'm not big on name-dropping, especially since I don't have many names to drop, but: For Press purposes, I've been mentioned or featured in places like RollingStone, BET.com, VIBE Magazine, allhiphop.com, etc. I've toured and done shows with people like Pharoahe Monch, Chuck D, Talib Kweli, Little Brother, O.C., etc. I've produced or collaborated with guys like Slum Village, Blitz the Ambassador, Aesop Rock, Atmosphere, Tanya Morgan, and more. The End…so far.