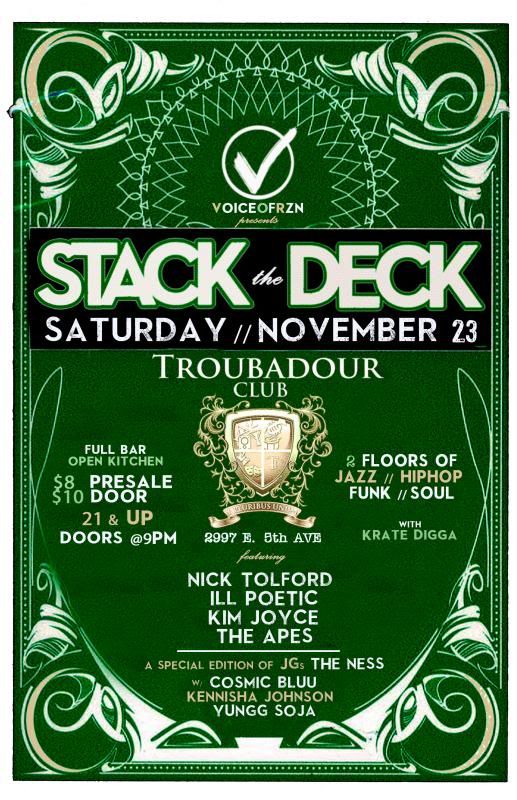 VoiceOfRzn Presents:
"Stack The Deck"
Saturday November 23rd // Troubadour Club
(pre-sale tickets available HERE with a free mixtape download of artist's songs)
________________________
VoiceOfRzn is proud to present the next installment of our "Stack The Deck" event, an intimate experience at the famed Troubadour Club.
"Stack the Deck" grew organically last November out of the release party for my "Synesthesia: The Yellow Movement", and from there, has evolved into a collage of eras and genres, calling to memory a blend of 1920′s Harlem Jazz clubs, Philadelphia's Black Lily, and Ohio's heyday of Funk, mashed together with influences of the Columbus hip-hop scene.
Not to be confused with your typical "grown & sexy" event, this will be an evening of mind-blowing music & talent, good company, drinks and food; a brand new experience set to a nostalgic atmosphere. An evening of top-shelf music from top-shelf artists spanning multiple genres, drawing in genuine music fans that contribute an amazing energy to complete the experience.
This is our 2nd "Stack the Deck", and our third event overall at the Troubadour Club. Join us for an unforgettable evening, featuring some of Columbus, Ohio's top artists: _________________________
Nick Tolford Ill Poetic Kim Joyce The Apes
..and a very special presentation of JG The Juggernaut's "The Ness" (currently a Thursday staple of spoken-word & party at "Zanzibar") with guests Yungg Soja, Cosmic Blue, Kennisha Johnson & more.
_________________________
Come and let your Soul Twerk.
Saturday November 23, 2013 Troubadour Club Doors at 9pm 21 & Up $8 Pre-Sale, $10 at door
(pre-sale tickets available HERE with a free mixtape download of artist's songs)
__________________________
Nick Tolford
Kim Joyce
Ill Poetic
The Apes
#VoiceOfRzn
#BeCool